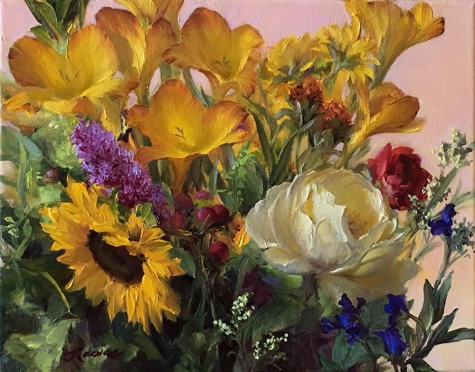 Monday—Tuesday, May 4-5, 2020 9:00am—4:00pm Tuition: $250
**ALL MATERIALS ARE PROVIDED FOR THIS WORKSHOP!
NOTE: A $50 discount will be given for participants who are also attending Diane's back to back three-day workshop "Painting Beautiful Flowers."
Color mixing can be exciting and fun, instead of scary and frustrating!! For some folks, color mixing may be completely intuitive, but for most of us, we need a simple and practical method for finding accurate color. This workshop offers just such a method, with plenty of time to practice! Award-winning artist and seasoned instructor, Diane Reeves, developed this fun and exciting, hands-on workshop to provide a specific means of consistently mixing beautiful, accurate color.
Diane will first cover the foundational concepts about color, then participants are given the opportunity to engage in fun and very practical exercises that teach how to control value, intensity and temperature. Next, she demonstrates how easy it is to apply four simple questions to confidently mix virtually any color. Diane then guides participants as they practice over and over using these questions, so they leave with a thorough understanding of the process as well as lots of experience in mixing accurate color.
Diane's students enjoy her warm and encouraging teaching style and how well she explains both concepts and demos. They're excited by the valuable guided practice exercises and leave with a new confidence and excitement about mixing color – accurately! This workshop is open to all levels.
Beginning as well as advanced painters are invited to attend this workshop, though some basic prior painting experience is helpful.
p.s. The two-day color portion of this workshop, and the three-day* flower portion of the set of can be taken separately or together:
Two-day Color Workshop: $250
Three-day Flower Workshop (*see note below): $375
Both Color and Flower Workshops: only $575 ($50 discount)
*Note: Registration is currently open for the full five-day workshop. If any spots are still available on April 18, then I'll open up the three-day version for registration. I do this to assure that anyone who would like to sign up for both parts of the workshop is able to do so.
To Register: Contact Diane Reeves directly at <dianereevesfineart@gmail.com> Website: www.dianereevesfineart.com