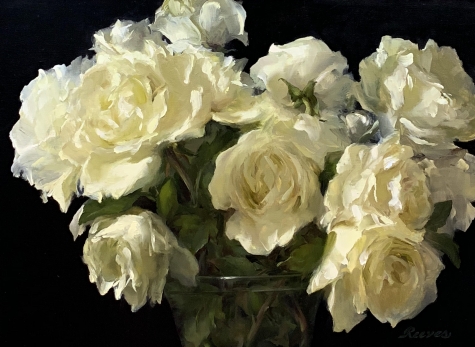 Wednesday-Friday, May 6-8, 2020 9:00am—4:00pm Tuition: $375
Learn to paint gorgeous fresh flowers with lovely, luminescent color!! This workshop offers the opportunity to learn concepts and practice skills that make painting flowers an absolute pleasure. Enjoy the excitement of discovering how to:
-mix beautiful, accurate color
-keep values true and natural
-maintain lovely hues in light and shadow areas
-quickly recognize basic forms of a variety of flowers
-choose specific brushwork to create lifelike blooms
-achieve accurate, interesting edges
-incorporate gorgeous translucency for both petals and foliage
There will be assorted color mixing demos as well as daily painting demonstrations of assorted garden flowers, including roses and hydrangeas. Each of the demos is thoughtfully paired with core lessons and concepts. The afternoons include plenty of one-on-one assistance as participants practice what they are learning through the completion of valuable guided exercises and by painting their own fresh flower set ups.
Note: All paints are provided by the instructor for the color portion of the workshop. A full supply list is sent to each participant upon registration and payment of tuition.
Hope you can join us for this May workshop being held at the wonderful, iconic "Barn" where Richard Schmidt, Nancy Guzik and the Putney painters gather to paint!
*Beginning as well as advanced painters are invited to attend this workshop, though some basic prior painting experience is helpful.
p.s. The two-day color portion of this workshop, and the three-day* flower portion of the set of can be taken separately or together:
Two-day Color Workshop: $250
Three-day Flower Workshop (*see note below): $375
Both Color and Flower Workshops: only $575 ($50 discount)
*Note: Registration is currently open for the full five-day workshop. If any spots are still available on April 18, then Diane will open up the three-day version for registration. This assures that anyone who would like to sign up for both parts of the workshop are able to do so.
To Register: Contact Diane Reeves directly at <dianereevesfineart@gmail.com>